HUMAN-CENTERED DESIGN, USER EXPERIENCE, IDENTITY & BRANDING
 → Featured in

Frankly,

the U of A graphic design class of 2020's virtual senior show. 
Many of my classmates and other students I know are finishing up their fifth or sixth years of college, including myself. When we began college, none of us were expecting an extra year and another year of tuition and student loans. I chose my first major based on a high school science class that I was interested in, but I was unaware of what type of careers I could later pursue within that area of study. After learning about the options I had for that particular major, I quickly realized that I did not belong in that field, so I changed my major a few times and officially chose graphic design at the end of my freshman year. 
I know many other students who have stories like this. If there was a tool that could educate students in their junior and senior years of high school and allow them to deeply explore paths that they are interested in with individuals who have personal experience in those fields, they could gain a better grasp of what they want to do with their lives in the future. This could reduce the cost of tuition and loans for many students. Additionally, this could reduce the pressure and anxiety that accompany the college major decision for both high school and college students. Young students put an extremely high amount of pressure on themselves and choosing a major adds another layer to that existing pressure. I want students to feel confident about the choices they make in order for them to live a meaningful life in accordance with their career path. This desire and concern led me to my design research question...
How might we make it easier for both college-bound high school students and existing college students to choose meaningful college majors that align with their skills and interests by utilizing connections with the local workforce?
View my full literature review here.
To begin, I immediately dove into my secondary research and began exploring topics relating to stress and anxiety in relation to students, decision-making styles, how collaboration affects the decision-making process, personality traits in accordance with making decisions, and how internships and professional experience can make the process easier for students. I explored James Marcia's Identity Stages, John Holland's Six Personality Types, and William Perry's Stages of Development, all of which correlated to decision-making styles and processes. I also discovered significant causes of stress in students' lives which include: parental pressures, fear of failure, comparison, busy schedules, and lack of time for self-exploration, among others. Below is a concept map I've developed based on my secondary research that guided me in pulling out the most important information to develop a solution.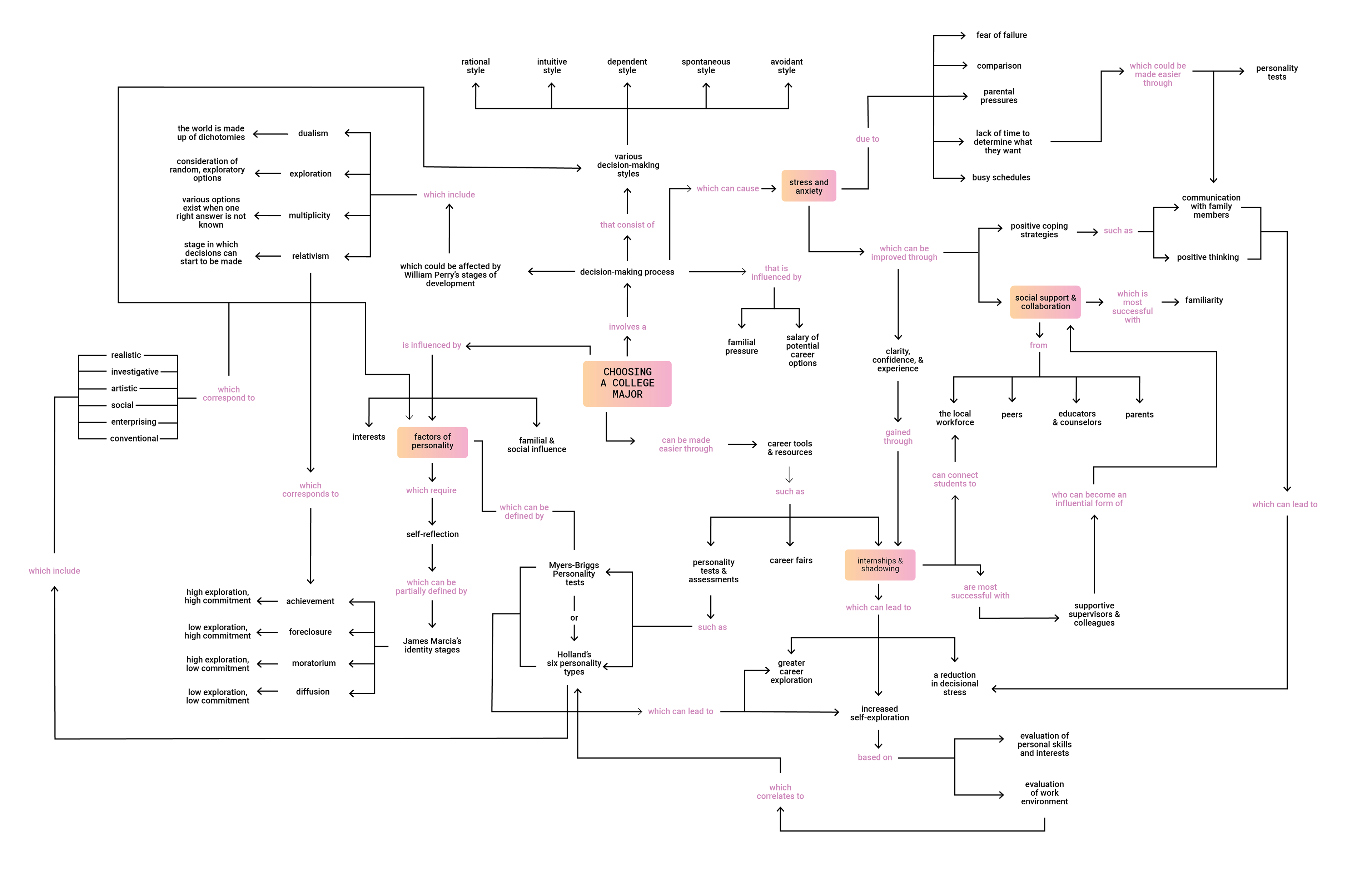 View my a full summary of my primary research here.
After completing the secondary research phase, I developed a system to gather information from a variety of audiences including students, local experts, and school counselors.  
I reached out to my high school, Ursuline Academy of Dallas, and asked the dean and advisors to distribute a survey to their junior and senior high school students. In addition, I sent a survey to college students to get their input on what kinds of tools and resources would have been helpful to them as high school students during their decision-making process. Lastly, I sent out another to members of the local workforce in Northwest Arkansas to assess how willing they might be to participate in internships, shadowing, or mentor programs with the local high school students in order to help make their decision-making process regarding their college major easier, more collaborative, and more streamlined. I found experts in a wide variety of fields through individuals I know personally and through Facebook posts.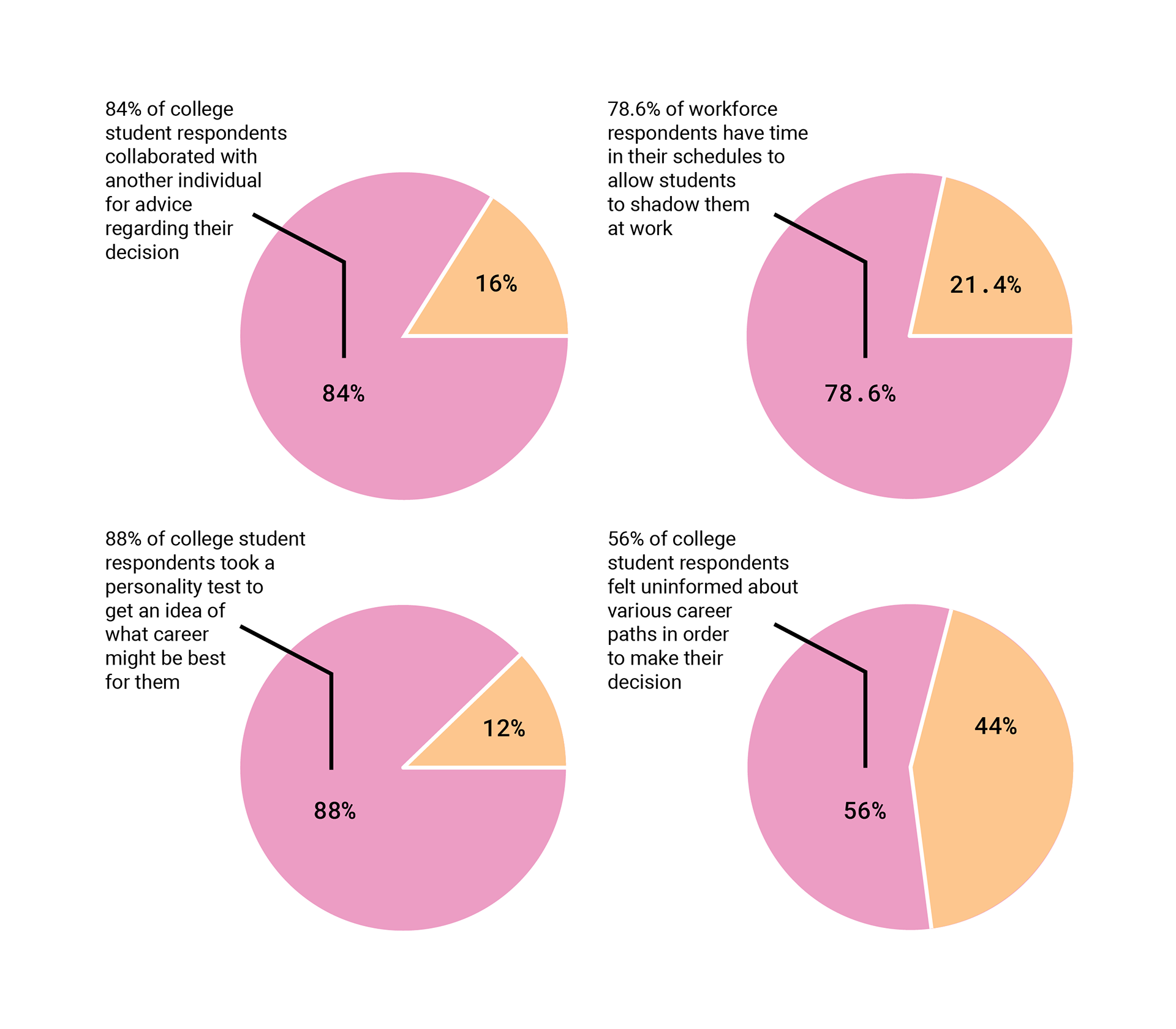 I interviewed a college freshman, who has gone through the decision-making process and has begun to see the results of their decision. I asked about what they would have changed about their decision-making process now that they have been in college for a few months. I also interviewed individuals in a wide variety of fields to see how willing they would be to offer guidance and support to high school students in order to make their decision-making process regarding their college major easier. Discussing potential options (like shadowing programs, mentorship programs, and monthly meet-ups with high school students) in person with these individuals gave me a better sense of how willing they would be to participate and give up some of their time based on things like facial expressions and body language. Lastly, I interviewed college counselors, who constantly see and communicate with high school students regarding big decisions like the choice of their college major.
I held a focus group at Springdale High School; I met with a group of high school students, a teacher, and a counselor to discuss their feelings, attitudes, and suggestions regarding the college major choice. I asked them a series of questions, and recorded their responses as they talked casually as a group.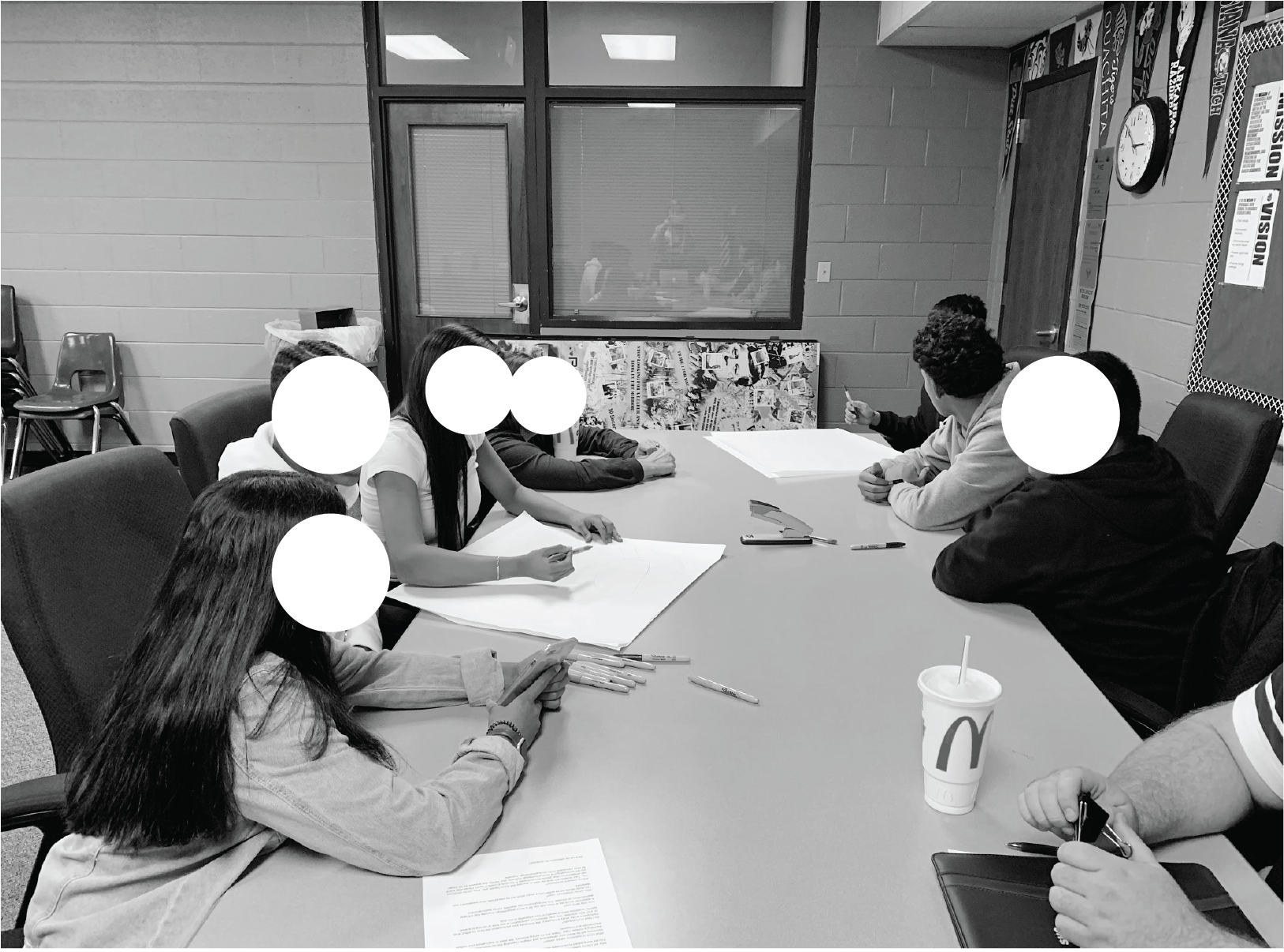 Lastly, with the same group of students, I led a design charrette. After our conversation during the focus group, I asked them to design a system using paper and markers that would make the decision-making process easier for students. One group developed a career-simulator app and the other created a virtual reality headset.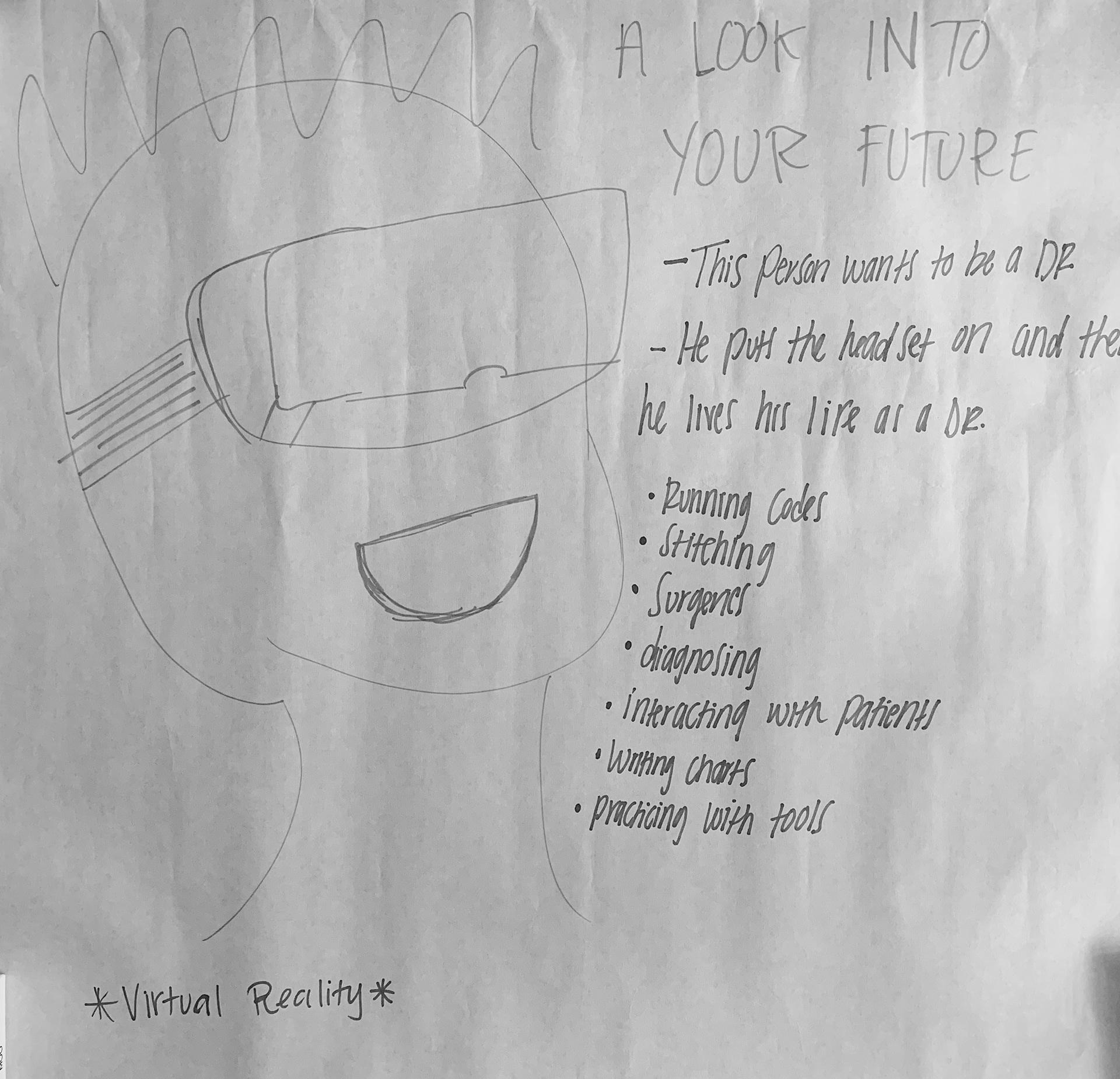 + Interest in the field is a driving force behind the decision.
+ Self exploration plays a big part in determining the right fit. 
+ Job security and salary are significant factors in the decision-making process.
+ Mentor programs would work well for both students and professionals. 
+ Collaboration is extremely important for students. 
+ Lack of knowledge about potential career paths is a big issue.
+ Commitment is a significant cause of anxiety regarding this decision. 
+ Real-world/professional experience is highly desired by students. 
+ Personality tests are resources commonly utilized by students. 
+ Students are encouraged to take responsibility when exploring options.
+ There are barriers/issues to look out for when developing a solution.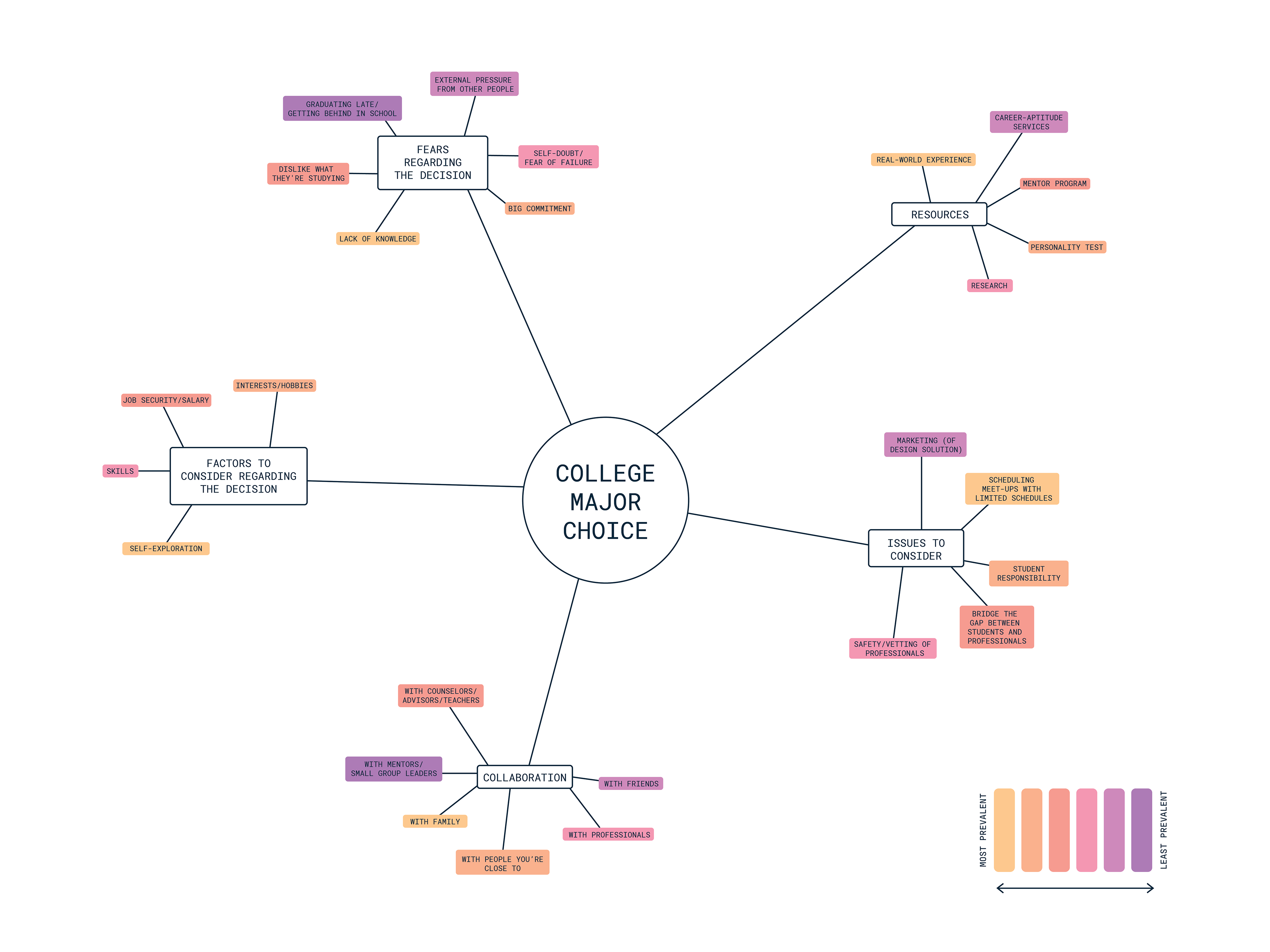 View my a full summary of my user testing here.
Originally, I had planned to carry out user testing with high school and college students, but due to the social distancing policies currently in place, I tested my prototype at home with my two sisters and my parents. I also sent my prototype to my friend's little brother, who is currently a senior in high school, and guided him through the app via Zoom.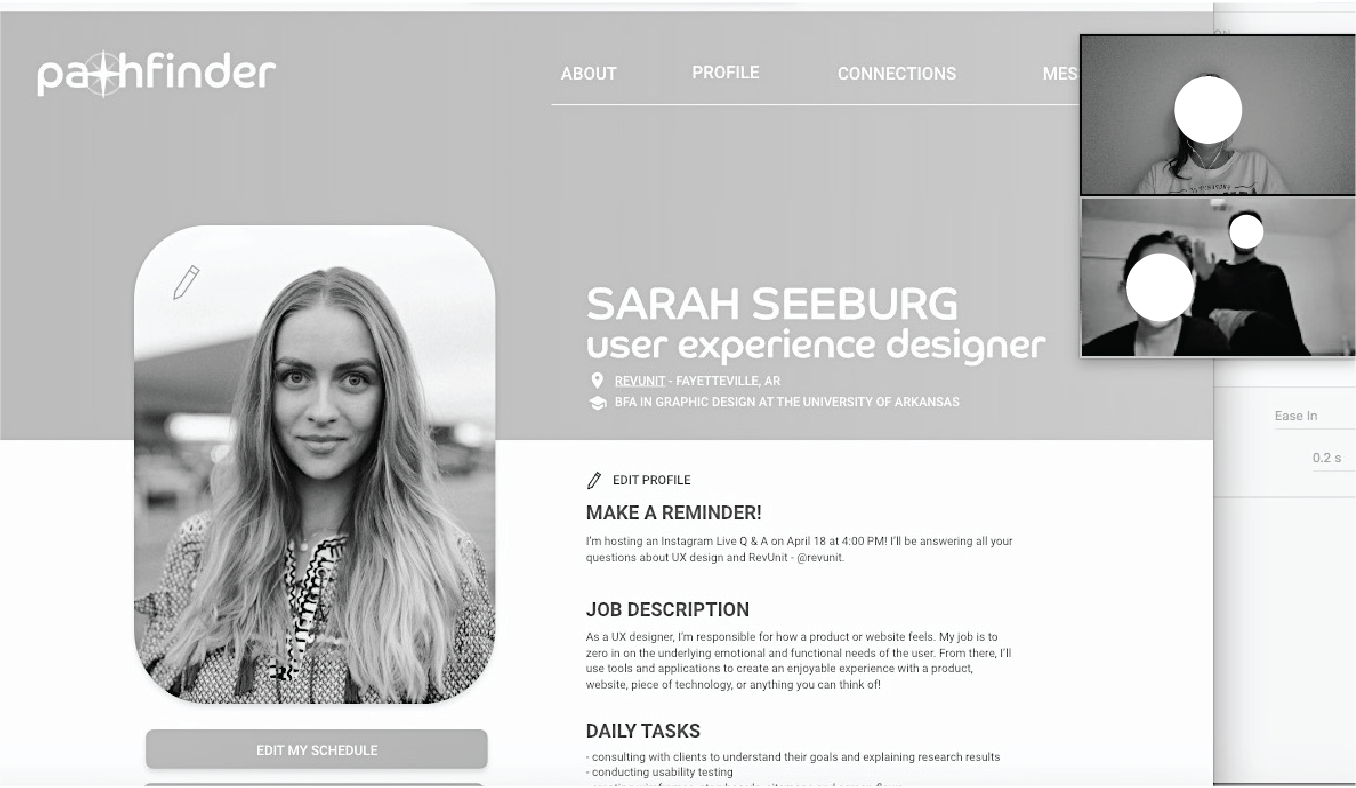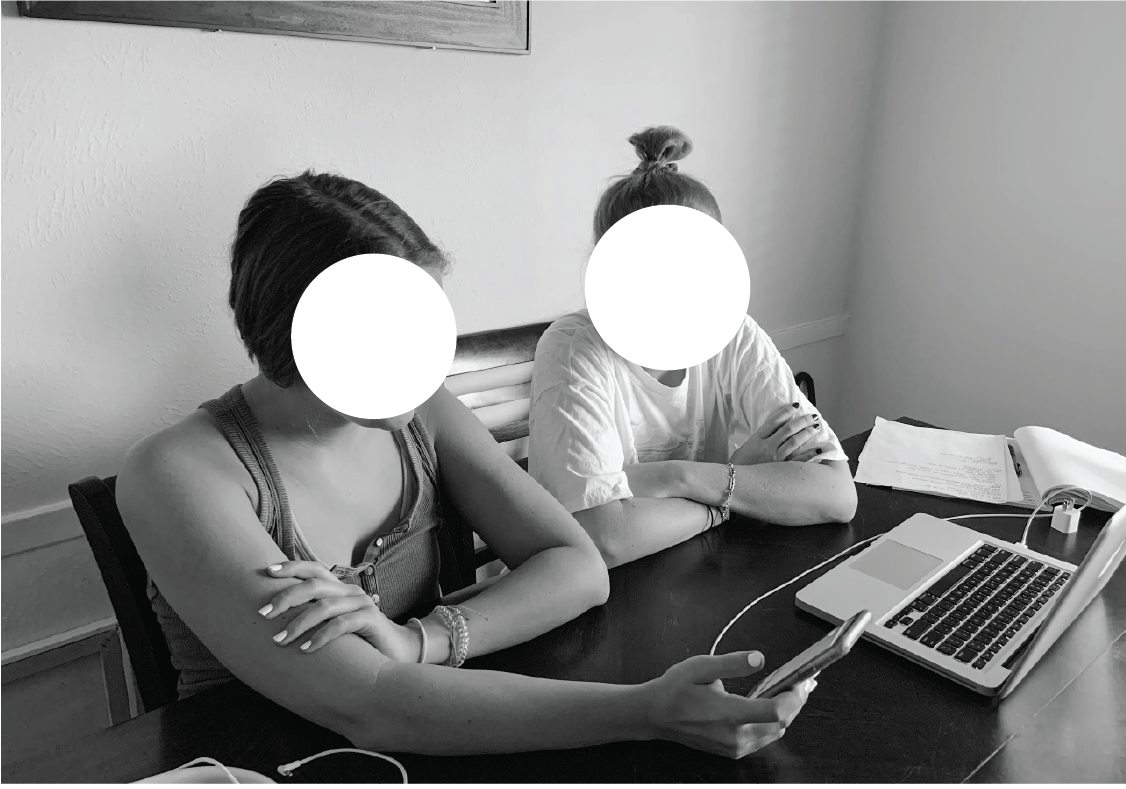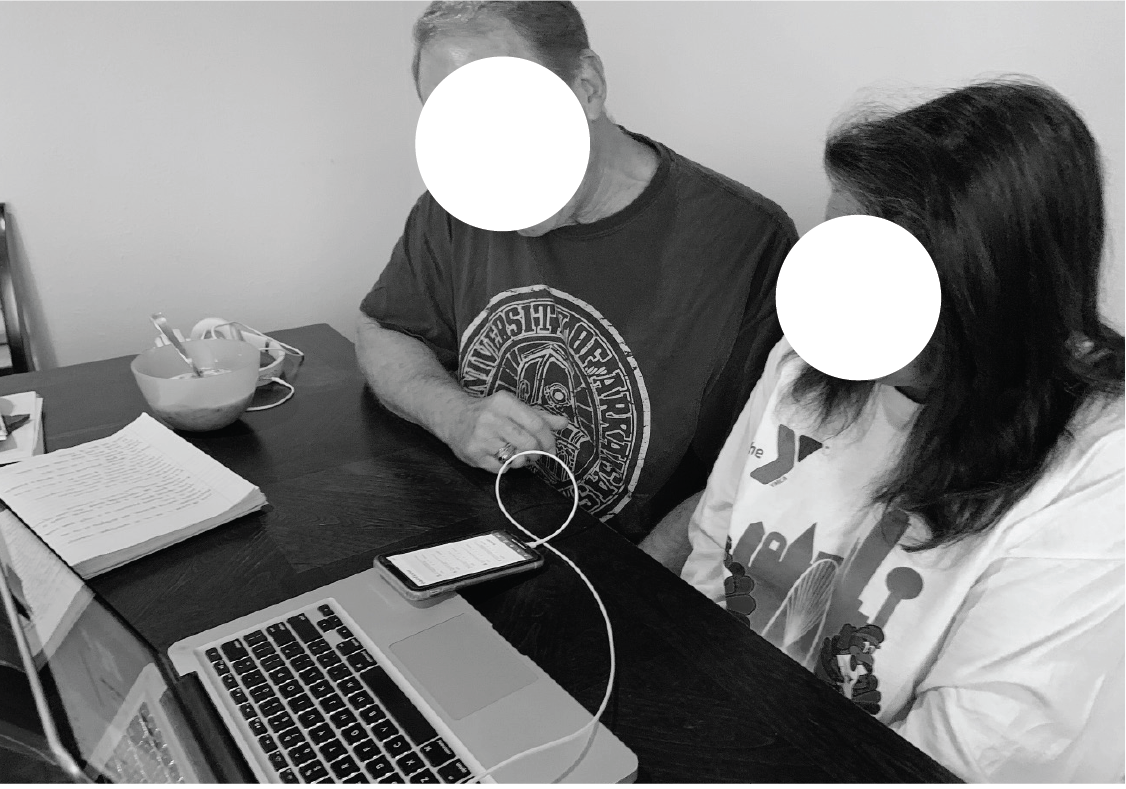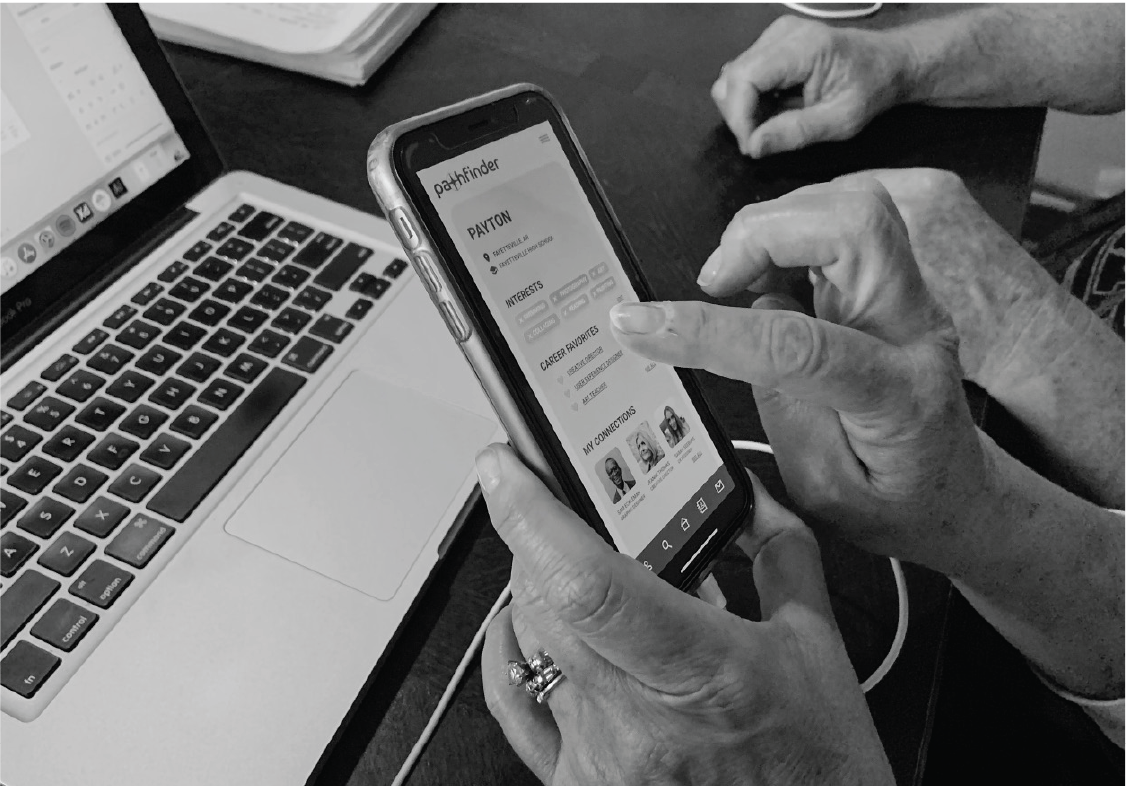 + There needs to be a profile option for both high school and college students.
+ Address the safety of the meetings between high school students and experts.
+ Develop a release form for students and vetting system for experts.
+ Emphasize the Live Q & A and virtual office tour features. 
+ Address the issue of message overflow from students to experts.
Choosing a college major can be scary, especially without the right tools and resources. What feels like a monumental, sometimes inconceivable choice adds loads of pressure and stress to students. Without having been exposed to the myriad professions and careers that exist, many students make uninformed decisions regarding their college major that set them off track. Pathfinder is an app that makes this intimidating decision easier for both high school and college students. Pathfinder addresses a lack of knowledge about existing careers and professions by allowing students to deeply explore career options, discover which major best fits their interests and goals, and connect with experts within their local area. It focuses on important elements in a student's decision-making process like collaboration, real-world experience, and self-exploration.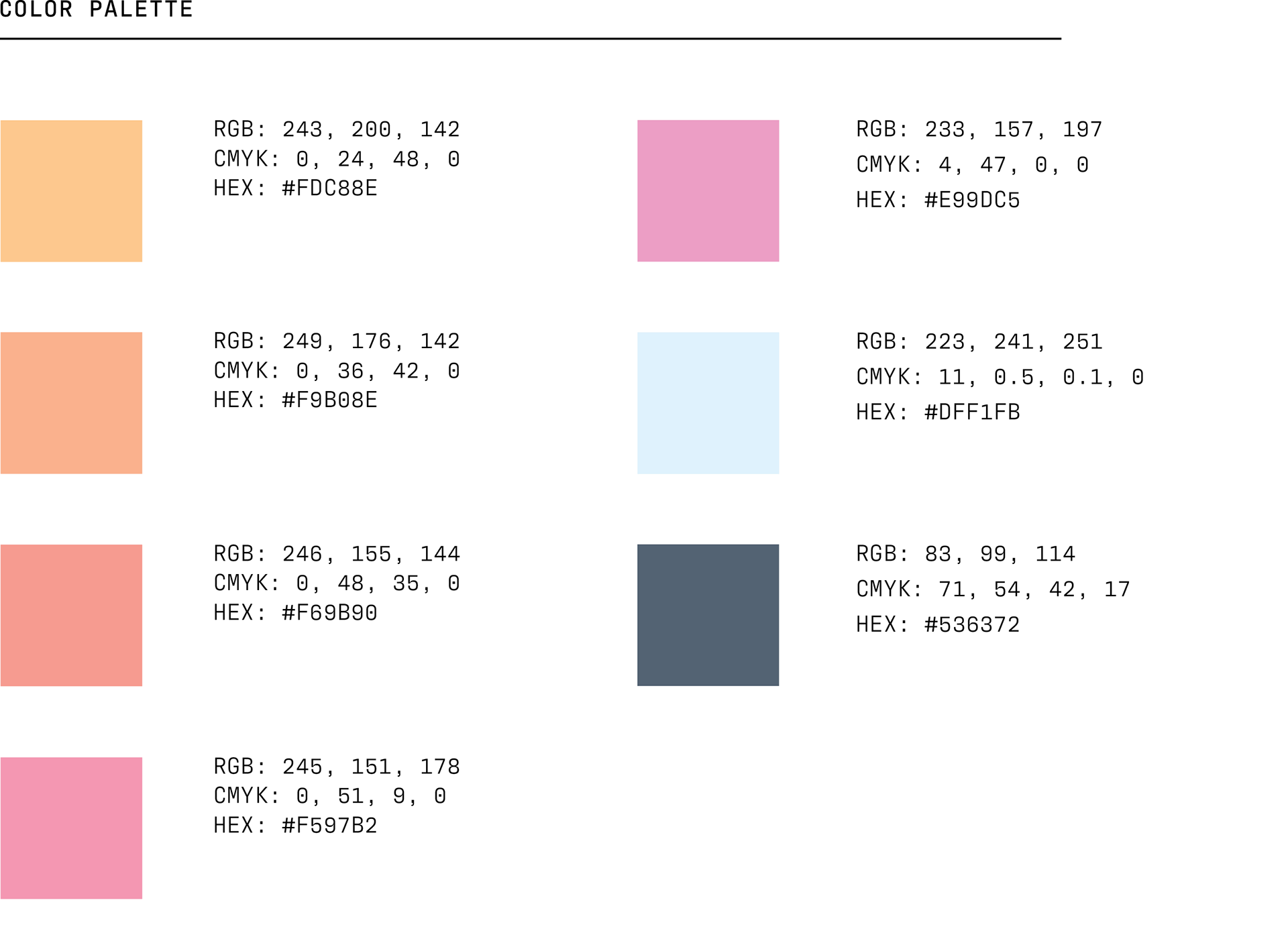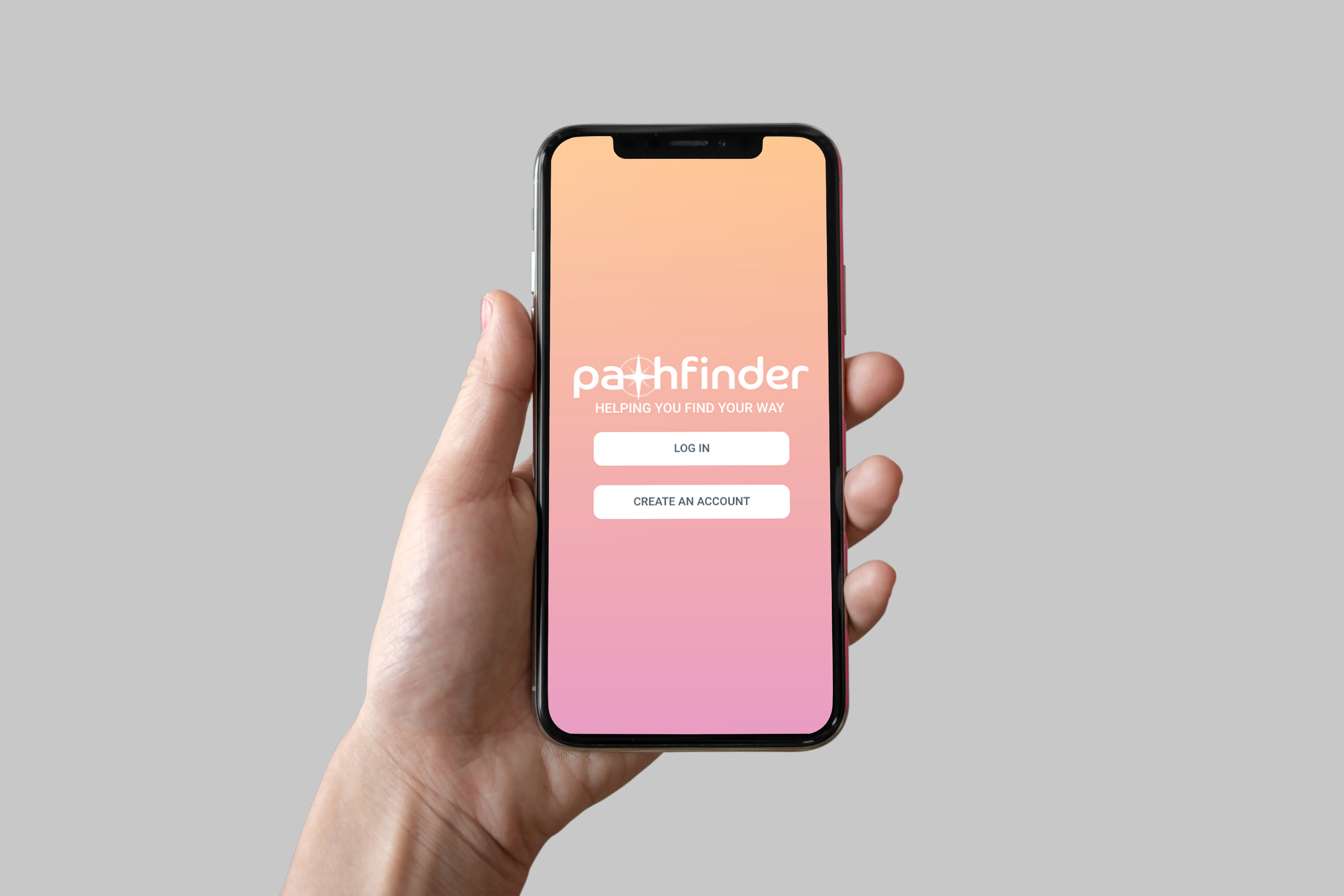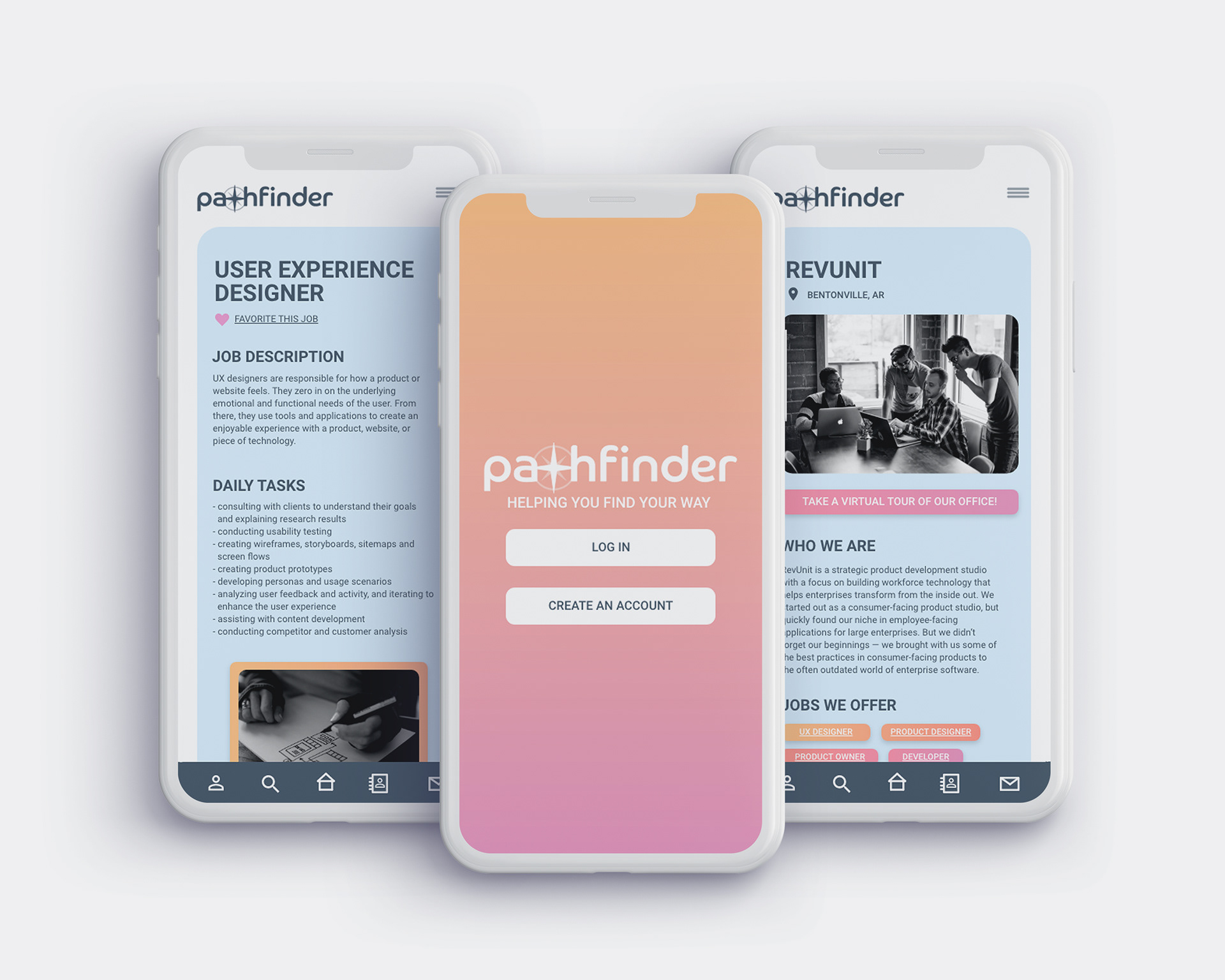 High school students, college students, and experts can create an account through Pathfinder's mobile app or on their web-friendly version. Experts will be vetted in order to ensure maximum safety for students. Once a student creates their account, they will be prompted to take a quiz regarding their interests and personality. Their results will provide them with career suggestions that would be a good fit based on those factors. They have the option to opt out of the quiz and explore options on their own if they choose to do so.
In addition to receiving a list of career suggestions, they will also be encouraged to connect with experts in their local area within the suggested fields. Once they connect with an expert, they can directly message them or easily book a shadowing appointment through the app. If shadowing is difficult or not an option for experts in certain fields, the experts can host Q & A sessions through the app. Students can plan ahead with questions and ask the experts when they go live with Pathfinder's video feature. In addition to individual experts in the area, students can also take a closer look at companies and businesses that specialize in specific fields that the students are interested in. They can take a virtual tour of their offices and work environments, connect with employees from those companies, and learn more about what jobs they offer.
If students are interested in exploring more on their own, there is also a search option that allows the students to search for careers by category. For example, if they are interested in graphic design, they can select the "art and design" category and explore the roles of user experience designer, art director, and layout artist among many others. Once they see a career that catches their eye, they can favorite that career and return to it later for a closer look. For each career listed, Pathfinder provides the following information: job description, daily tasks, related college majors, companies in the area, career trajectories, median salary, and industry growth.
In addition to the mobile app, there is a web-friendly version for individuals who prefer this format. Within the web version, individuals can easily edit their profiles and schedules, send and receive messages, explore careers and companies, and opt to have notifications sent to them via email or SMS text instead of through the app.
The college major decision is not an easy one. It is extremely challenging for students to know what they want to do for the rest of their lives when they have only been exposed to a very limited amount of people, experiences, and knowledge at a young age. Although Pathfinder does not have all the answers, I believe that it is a very helpful place to start in providing greater access to information, fostering connections between students and experts, and creating opportunities for professional experience and personal growth for both high school and college students.
View my full research report here.